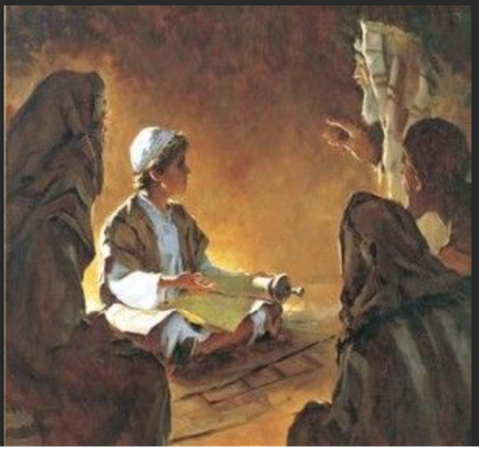 Jesus at the Temple
The artist for this painting is Brian Jekel. He was born in 1951 in Michigan, but he grew up in Wisconsin. Encouraged by the very cold winters where he grew up, Brian enjoyed spending his time inside sketching animals. After graduating from college, he started a career in teaching physical education and coaching sports in Australia, Minnesota, and Colorado. However, in 1977 Brian became dissatisfied with the public school system and he decided to change careers. He enrolled in the Rocky Mountain School of Art (RMSA) in Denver Colorado.
RMSA was a small school known for its studies based on figurative work strongly influenced by George Bridgman of the Art Students League in New York City. George Bridgman believed in artistic anatomy focused on creativity and not just copying what is seen by the eye. Brian excelled in his studies and after just one year, he was asked to be the instructor for several of the classes.
It was at RMSA that Brian met, fell in love with, and married a fellow art student, Marlene. It was through Marlene that Brian began his spiritual journey to the Lord by putting his faith in Jesus. The couple moved to Lacey Washington where a Church friend told Brian about a small Christian college in Pensacola, FL, that was actively searching for an illustrator and art teacher. He started teaching at Pensacola Christian College in 1981 and he has illustrated more than 1,200 Bible paintings for the college's publishing company. In addition, God has blessed Brian and Marlene with seven children. Two of their sons, Jamieson and Kobi, are alumni of Pensacola Christian College and now work with their dad at Abeka.
Brian has received many awards for his paintings and illustrations including being elected to the Society of Illustrators in 1989. Also, seven of Brian's Life of Christ paintings in The Master Peace Collection were featured and honored for his artistic proficiency in DaySpring's 2003 Reclaiming the Arts for Christ initiative. Additionally, the Pensacola Christian College 2013-2014 Summit yearbook was dedicated to Brian for modeling Christ-centered values to the students during his years of faithful service.
Brian enjoys teaching the students at Pensacola Christian College and he considers it a blessing to be able to help the students realize their dreams in life. More importantly, Brian is confident that Jesus put him right where he needed to be. He is in an environment where he could deepen his faith and stay faithful to God. He takes advantage of this opportunity to use his talents to study the events in the Bible and to bring Jesus to life in his paintings.
He has very unique pieces of art based on passages from the Scripture. They are realistic representations with an impressionist style. In this one, Brian takes a snapshot of the 12-year-old boy Jesus in his dialogue with the teachers of the law while he was in the Temple for three days. This may have been what Mary and Joseph saw when they found him in the Temple. It is so well done that it was chosen as the cover for our series!
46 After three days they found him in the temple, sitting in the midst of the teachers, listening to them and asking them questions, 47 and all who heard him were astounded at his understanding and his answers. (Lk 2:46-47)
Sources:
Pensicola Christian College NEWS, Brian Jekel: With Prayer and a Paintbrush, January 24, 2019
Brian Jekel Art Gallery, Brian Jekel biography, represented by The Collection Shop
Walls Fine Arts Gallery, Brian Jekel biography
Creator's Brush, Brian Jekel biography